This year's Flight of the Dove ride was great!, as I've come to expect. I've ridden this ride every year since it started and I'll keep coming back.
Before I get into the ride, I want to make a general observation. There are sources of inspiration all around us, if we but look. I mentioned my Sister's perseverance caring for her terminally-ill Husband. On this ride I saw another one. I guess if you saw these two guys in any other setting, you'd probably say they were handicapped, but what I saw was inspiring. They rode the 62-mile route on these recumbent bikes, pedaling with their hands and arms. Let me tell you, there were places I was having a hard time keeping up with them.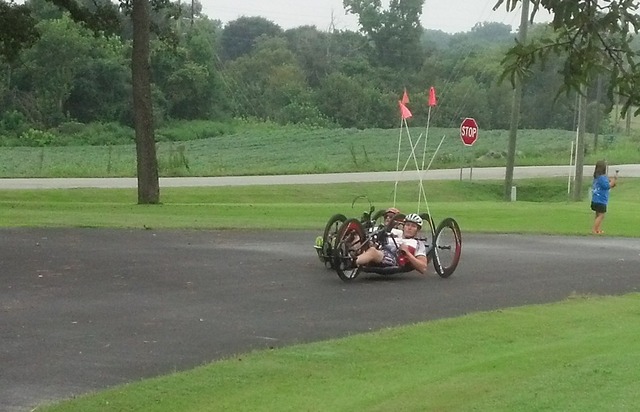 Should I ever find myself in such a condition, I'm going to be thinking of these guys. (As usual, you can click on the pictures for a full-res version.)
Now on with the ride! I hadn't been riding much this year (at least not as much as I usually do, or would like to), so I actually considered dropping back to the 30-mile route, or taking the 50-mile shortcut. But, that's s slippery slope, and I elected to go for the 62-mile ride, even if it took me all day.
Weather was near perfect: overcast skies, no rain, cool temperatures, especially for a South Carolina August. The only thing I could complain about was the wind, which tended towards a headwind late in the ride, especially on SC72. But you can't have everything (even though this ride comes close).
I usually get to events and appointments early, and this was no exception. Even still, there were a lot of riders already there when I arrived, about an hour before the start.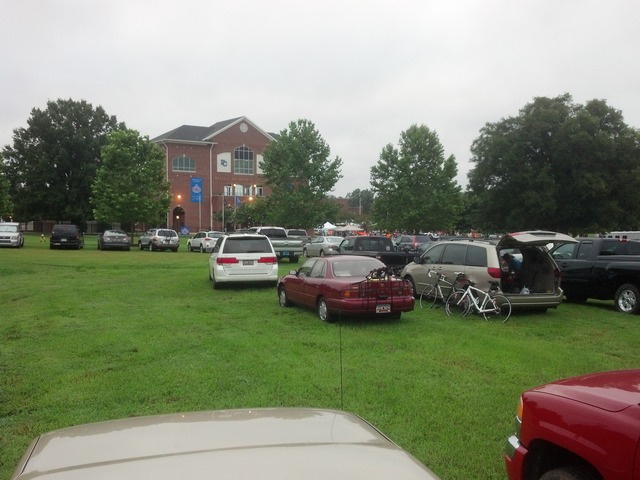 It looked like a good turnout.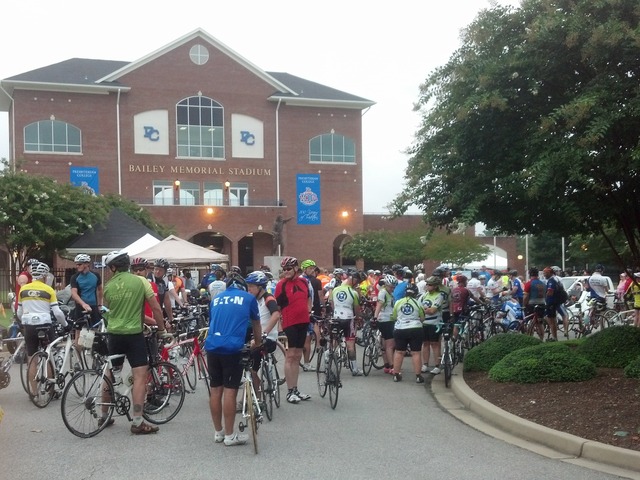 The rest stops were well attended and provisioned.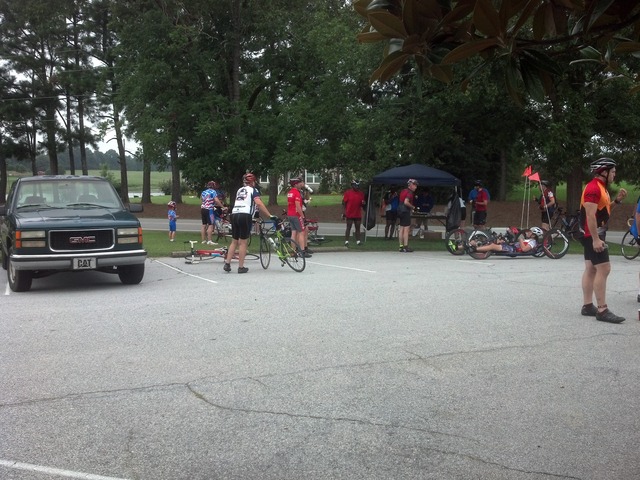 The third rest stop was at the Belfast Rifle Range, where arrangements had been made for riders to do some shooting, should they desire.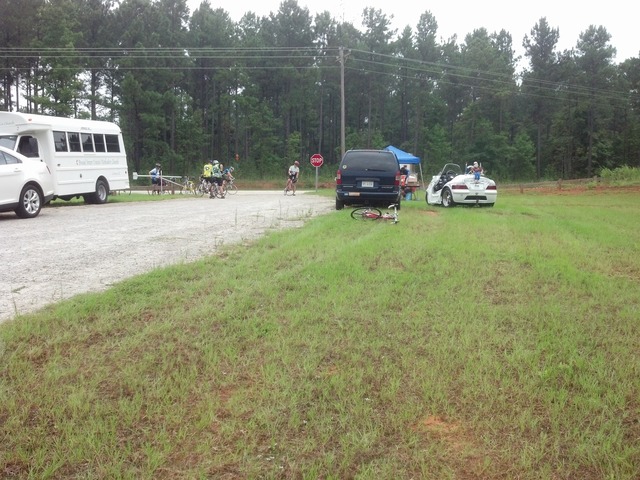 You, know, when you're in a port-a-potty and someone fires off a high-powered rifle, it gets your attention, until you remember you're at a rifle range.
It don't get much more rural than this: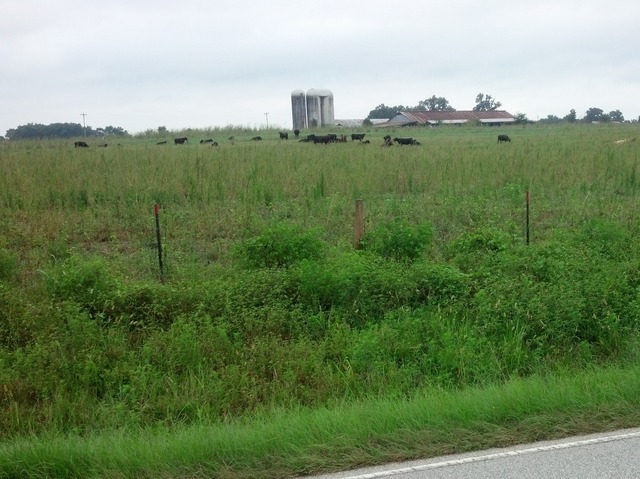 Some of the happy volunteers who make this a real rider's ride.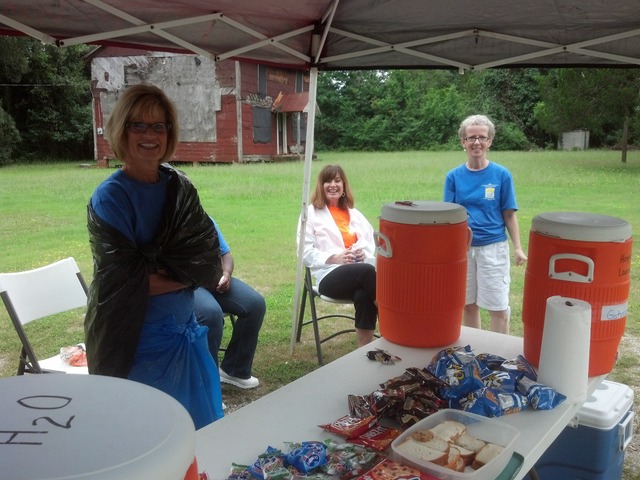 The support on this ride can't be beat. In addition to those smiling and helpful rest stop folks, SAG vehicles were in evidence, as well as the motorcycle folks patrolling. At several busy intersections, Sheriff's Deputies were there to manage traffic.
Finally, finished, and it didn't even take me all day: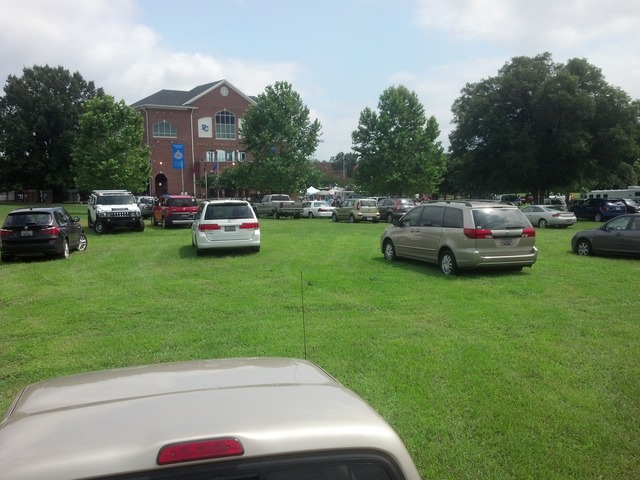 One of the many things the organizers do a great job on is marking the roads, not just with directional marks (and those extra marks every few kilometers on the long stretches are appreciated – I always wonder if I missed a turn), but also marking the hazards like potholes, bumps, railroad crossings, and such. There was one spot on Bush River Rd. that had taken a beating from all the recent rains. I'd almost swear it was in worse condition when I went back for this picture than it was when I rode through there earlier in the day.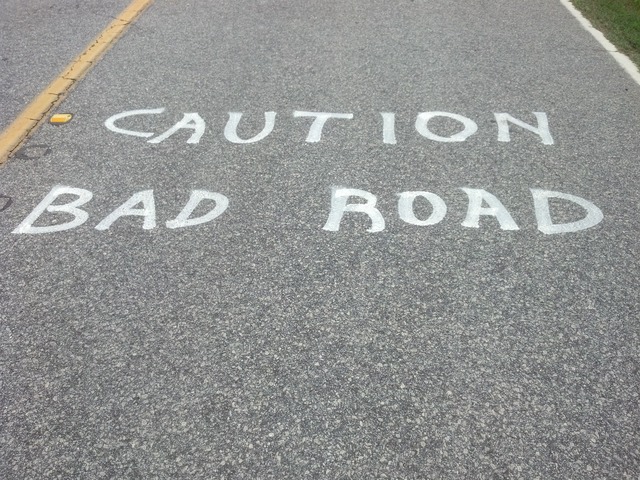 You really couldn't say much else about that little stretch.
As usual, this was another super ride. For those who didn't make it, please try harder next year. You won't find a better ride: route, support, food, and no restroom lines. And, to top it all off, it supports a great charity, Hospice of Laurens County. It's an organization like this that really helped my Sister and made it possible for her to care for her Husband.
Next up, the Ride for Raptors.