Who'd've thunk I'd be doing another winter storm post right after the first one?
This one started with just a quick inch of snow that melted right off of most stuff (including the roads) on Tuesday. Then things got interesting, with snow beginning in earnest Wednesday morning. It slacked off in the afternoon before resuming with mixed precip in the evening and finished off with some snow squalls Thursday morning. Total accumulation here looked like about 4.5 inches.
The meteorology of this storm wasn't all that unusual for this part of the world, except for it's intensity. High pressure to the north setting up a "cold air damming" scenario: cold air gets blown up against the east side of the mountains where it just piles up. Then add a Gulf of Mexico low traveling up the coast throwing moisture all on top of that. More often than not, this setup gives the forecasters fits because you have warm air, cold air, and somewhere they're going to meet, but it's hard to nail down just where that is. As a result, there's often a lot of uncertainty as to whether we're going to get snow, sleet, freezing rain, rain, or frogs. This time there wasn't a lot of question.
The view Wednesday morning, which didn't look all that bad: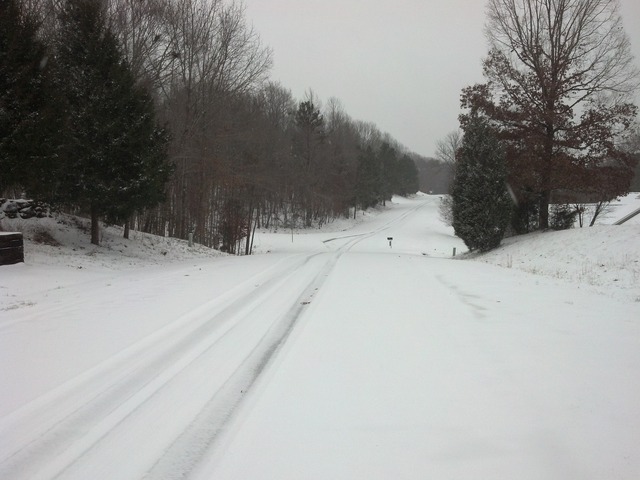 But things went downhill from there. By Thursday morning, in between show showers: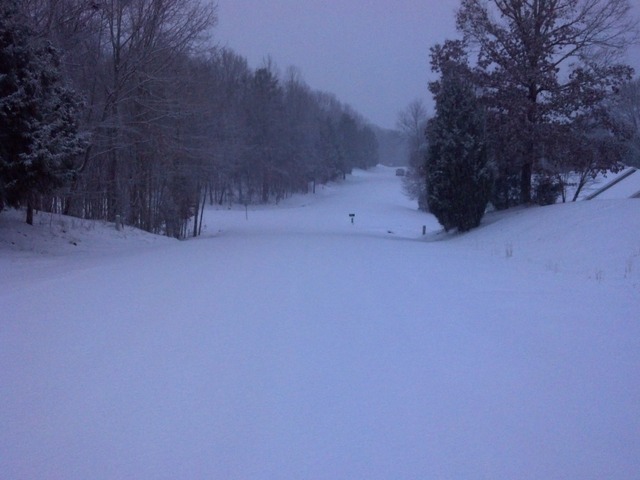 Total accumulation: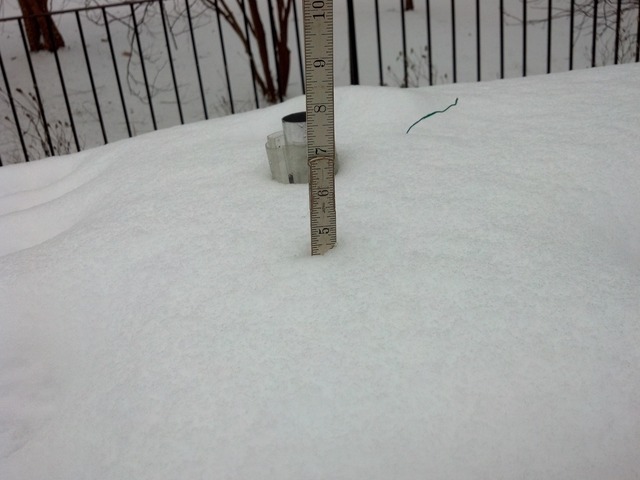 But like a typical Carolina winter storm, Thursday afternoon it warmed up and cleared out, giving me a chance to work on the driveway: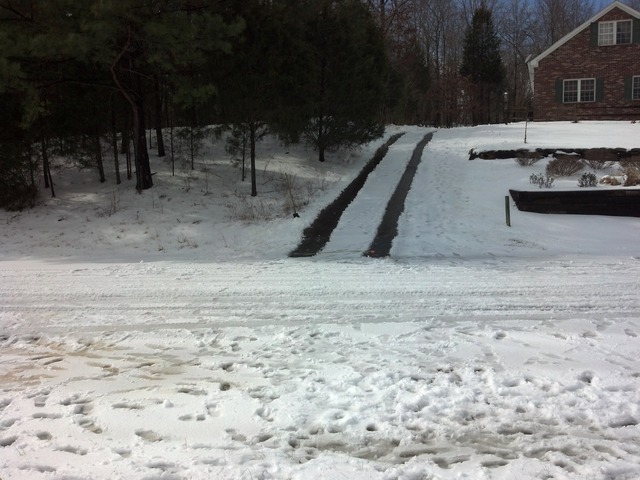 Lest anyone think I'm just lazy, there's a madness to my method. By tomorrow morning all this is going to freeze again. If those shoveled out tracks don't dry off and instead turn to ice, I can make my way down on the crunchy snow/slush areas, and maybe not end up in the lake at the bottom of the hill. Hopefully by later in the day the tracks will melt and make for an easy climb back up.
These and more pictures can be found at my Google album.
Now for the "creature content". A couple weeks ago we got a couple more hanging feeders deployed in the back yard. One of them is a clear plastic tube feeder, and as the Goldfinches attacked it, I could almost see the seed going down in the tube. Almost. So I got the idea to do a time-lapse video to showcase the operation. With some extra time around the house Wednesday, I put together this video: